~ One day ~ 3 days ~ 12 days ~ 3 weeks ~ One month ~ ~ 5 weeks ~ Six weeks and a half ~ Two months ~ 10 weeks ~ 12 weeks ~
Jasper the Vampire in his new home
Jet Black Rapunzel in her new home
The colours of that litter, all darkness and fire, made me feel like looking for names on the dark side of the force.... that litter has evil names, but they are adorable, I swear !

Jafar is the arch enemy of the sultan and of Aladdin in the movie bearing that name. He is cunning, manipulative and dangerous.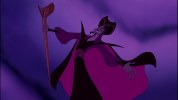 Jack The Ripper is the famous killer of Whitechapel, London... a legendary bad guy !

Jasper The Vampire is Edward Cullen's brother in the Twilight series. He has a borderline personality and cannot really control his thirst for blood. And of course, it's also the name of my beloved neutered male Sarek's Jasper.


Jet Black Rapunzel is the nickname of an enigmatic and disturbing girl in the novel Mind of Winter.


Jasputina is a name I have invented, based on the name "Rasputin", the famous Russian monk who had foreseen the fall of the Romanov dynasty, and who was rumoured to be a wizard.


Selling terms

Please have a look here, thank you !

Contact


chatterie-eperon@voila.fr